WOLMAR WINSOME®

PRO BIO PRO HAIR
---
PRO HAIR
Plyfunctional complex for improvement of skin and coat conditions of puppies and dogs.
For better absorption of essential amino acids, water- and fat-soluble vitamins, micro and macro elements. The formula contains probiotics - enzymatic extracts of Bacillus Subtilis and Bacillus Licheniformis.
Regular intake of complex ensures healthy skin and coat, reduce physiological period of molting, the brightness of the pigmentation (color), prevention of skin diseases and allergies, dermatitis caused by an unbalanced diet.
The probiotics contained in the formula are highly active against most pathogenic enteric viruses and bacteria. Complex minimizes allergic reactions and promotes the regeneration of tissues of the organism, has a positive effect on metabolism. Contains microencapsulated retinol, which improves the nutrition of hair follicles and as a consequence prevents the loss of hair.
Indications:
---
The deterioration of of skin and coat conditions. Comprehensive prevention and treatment of diseases of skin, dermatitis, dermatoses, including allergic. Avitaminosis and its prevention.
Application and dose:
---
Packaging - Slider Box 100 tablets (10 blister tab).
1 tablet per 25 kg (or half tablet per 12 kg) of weight per day, separately or mixed with food. Dissolve a tablet/tablets in 30-50 ml of water (dissolving time 50 seconds), mix add to food or feed from hands if not dissolve.
Packaging - the bottle (180, 360, 540 tab)

1 tablet per 10 kg of weight per day, separately or mixed with food. Dissolve a tablet/tablets in 30-50 ml of water (dissolving time 50 seconds), mix add to food or feed from hands if not dissolve.
Data for bottles and packages 180, 360, 540 tablets (dosage 1 tablet per 10 kg of body weight). For tablets in the Slider Boxes (with dosage of 1 tablet per 25 kg of body weight), the data from the table is equivalent to 2.5 times or +150%
Guaranteed analysis
One tablet contains
(minimum values are shown)
Amino acids
Valine.…………………………..…………......3,4 mg
Phenylalanine…………………..………......2,4 mg
Leucine.…………………………..………......4,2 mg
Threonine………………………..……….....2,8 mg
Lysine…………………….…….………….....2,8 mg
Histidine………………………..…………....4,9 mg
Arginine………………………..………….....0,5 mg
Methionin………………………..……….....1,6 mg
Tryptophan………………………..……......0,5 mg
Isoleucine……………………..………….....2,8 mg
Vitamins
Vitamin A (retinol acetate)……………...625 ME
Vitamin D3 (cholecalciferol)…………......93 ME
Vitamin E (tocopherol acetate)………..1,25 mg
Vitamin B1 (theamine)…………………...0,13 mg
Vitamin B2 (Riboflavin)………………...0,25 mg
Vitamin B6 (pyridoxine hydrochloride)..0,15 mg
Vitamin B12 (cyanocobalamin)………..0,62 mg
Biotin…………….………………………..........5,5 mg
Nicotinic acid……………..……………........5,5 mg
D-Calcium pantothenate………...……..0,57 mg
Minerals
Calcium.………………………………..…......60 mg
Phosphorus.……………………………….....45 mg
Zinc...…………………….....…………….....1,5 mcg
Composition:
---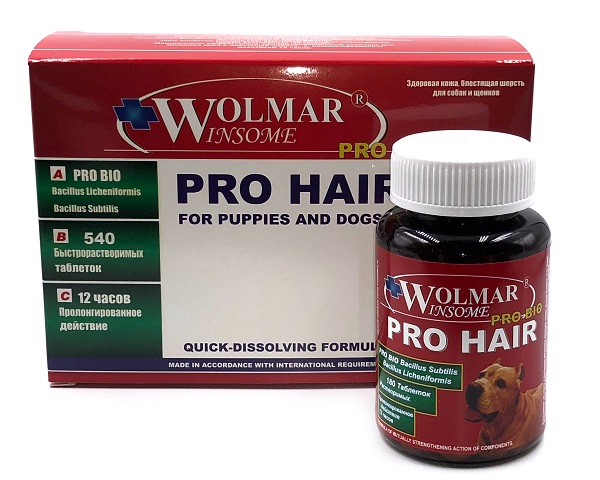 yeast extract, dicalcium phosphate, vitamins in complex: retinol acetate, cholecalciferol, d-alpha tocopherol acetate, thiamine, Riboflavin, pyridoxine hydrochloride,cyanocobalamin, Biotin, Niacin, d-calcium Pantothenate (B3), calcium gluconate, enzymatic extracts of Bacillus licheniformis (CF 200/DSM5749), Bacillus subtilis (CH 201/ DSM5750),MCC, calcium stearate.
Short pharmacological properties:
---
Action of the complex is due to the quantitative content of amino acids, the components and their interaction with enzymes synthesized by probiotics.
Probiotics *- enzymatic extracts of Bacillus Subtilis (CH201/DSM5750) and Bacillus Licheniformis(CP200/DSM5749) synthesize bacteriocins and enzymes: amylase, lipase, esterase, acid phosphatase, leucine aminopeptidase, valine aminopeptidase, cystine aminopeptidase, chymotrypsin, galactosidase, glucosidase, improve digestion and digestibility, stabilize the normal microflora of the digestive tract, reducing the concentration of ochratoxin class A on 68%, displace from the digestive tract pathogenic bacteria as gram-negative as well as gram - positive. In the complex provide maximum bioavailability* (digestibility) of amino acids, vitamins and minerals.
Vitamins*- microcapsular in carbohydrate-gelatin matrix , ensure the stability of the complex and prolonged effects of vitamins for 12 hours as a consequence of the elimination of allergic reactions in dogs in the absorption of vitamins and maximum effectiveness of vitamin therapy in general.
Ten essential amino acids* not synthesized by the body of the dogs, contains in the complex in full volume, is required for activity.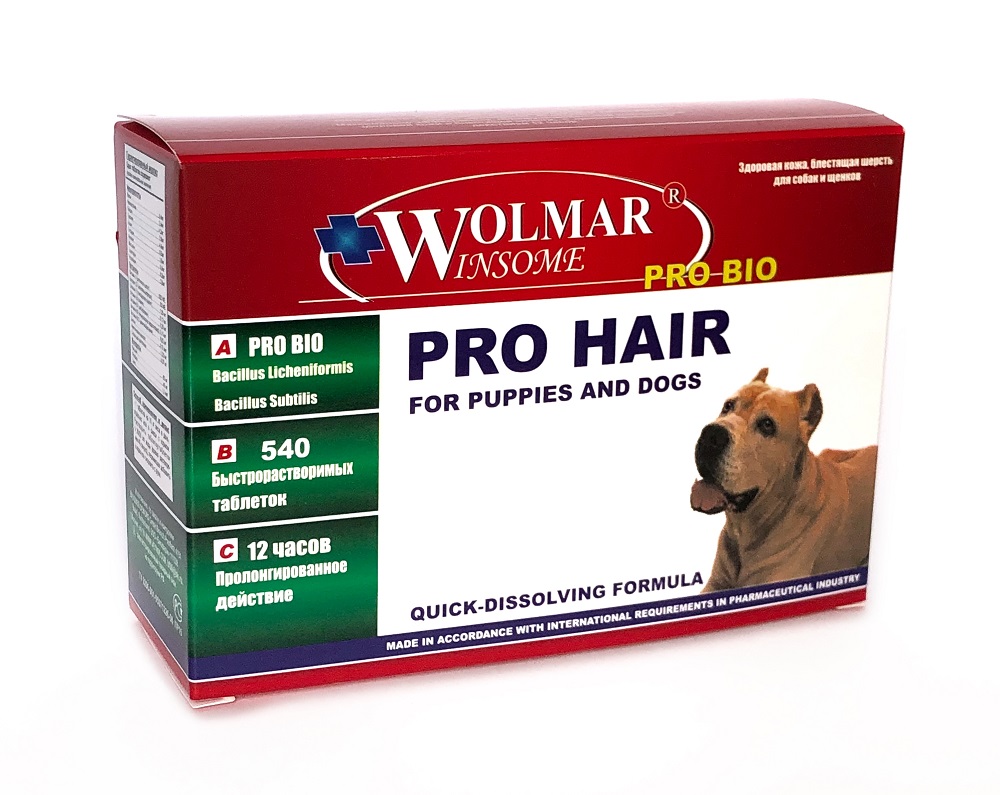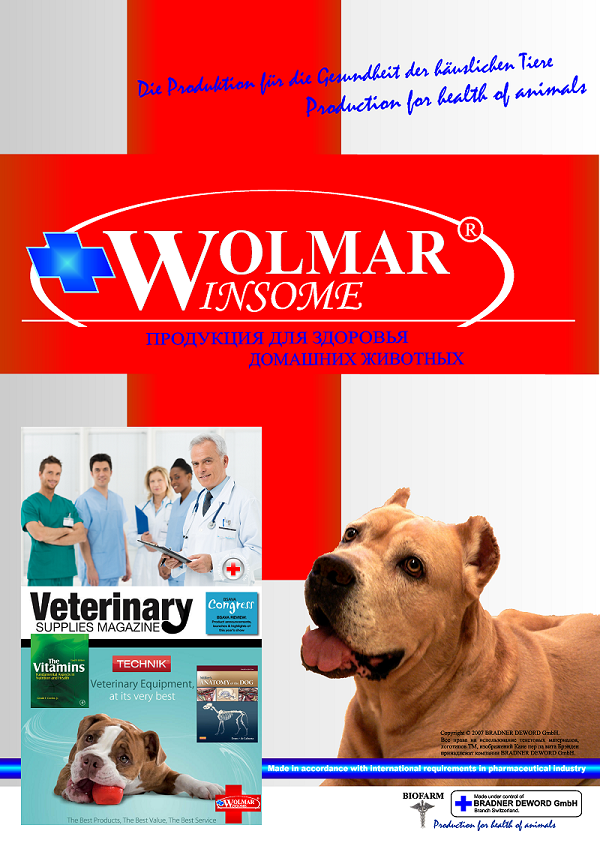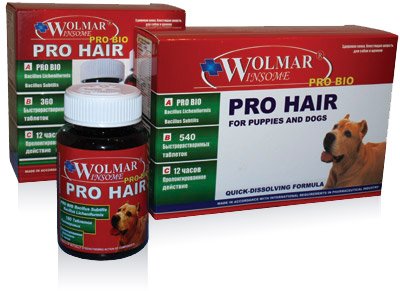 Release form:
Slider Box contains 10 sliders with 10 tablets LARGE PILLS instant, in individual blister pack.

Advantages of Slider Boxing Packaging:
Each tablet is in the blister and not exposed to damaging factors. The number of taken from the slider tablets can be easily controlled, which ensures the accuracy and consistency of reception. The slider is convenient to take with you, it takes up significantly less space, are lighter and more compact. The consumer can acquire and use one slider, which is enough for 10 days of application when the dog's weight is 25 kg and for 20 days when the weight of the dog is 12 kg.
Release forms:
Bottles with 180 tablets instant,
boxes with bottles of 360 and 540 tablets.